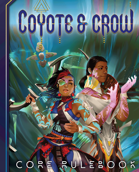 Coyote & Crow Sale!
As part of Native American Heritage Month you can save up to 60% on the Coyote & Crow Core Rulebook in PDF and Roll20 VTT, plus 8 stand alone story adventures! The Hemlock and Sage novel by Tali INlow is also on sale!

RPGs for the Holidays!
The holidays are almost here. If you are shopping for a gamer on your list or want some books for yourself, it is time to get those print on demand orders placed! Print on DriveThruRPG books take time to print and ship, so you want to make sure they arrive in time for gifting! Order by November 24th!

Recent print books include the Terrifying Tales from New England Folklore, Otherworlds Core Rulebook, 10 Downing: A Mausritter Campaign, and more!
NaNoWriMo Sale!
National Novel Writing Month (NaNoWriMo) is going on now! Over at DriveThruFiction you can save on eBooks with writing advice and reference guides from Kobold Press, Brain Jar Press, Onyx Path Publishing, and more! Helpful guides whether you are writing a novel or your next campaign setting!

For questions about your DriveThruRPG account or problems with your order please use the Contact Us form.