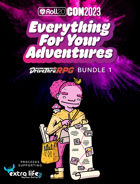 Roll20Con is on now!

Roll20Con is a time to celebrate games and uplift each other in our gaming communities. This year's Roll20Con has all kinds of exciting opportunities for you and your friends to play games, save money, raise funds for charity, and more!
Chains of Asmodeus Proceeds Benefit Extra Life for Kids!

Chains of Asmodeus is a 286-page Dungeons & Dragons 5th Edition sourcebook and adventure for the Nine Hells written by James Ohlen and Adrian Tchaikovsky. Proceeds from Chains of Asmodeus go to Extra Life! Chains of Asmodeus is available now in PDF and Hardcover will be released soon.
Save Big with the Black Flag Adventure Pack!
Get 10 Adventures and save 28% with the Black Flag Adventure Pack bundle deal from Kobold Press! This bundle includes adventures from Ghostfire Gaming, Steamforged Games, Frog God Games, and more!
Grab the Heroic Maps November Bundle!
Need to refresh your map collection before your next game? Save 60% with the Heroic Maps November Grab Bag bundle deal! This bundle includes Cathedral of the Sword, Riverside Warehouse, The Magic Souk, and more!

For questions about your DriveThruRPG account or problems with your order please use the Contact Us form.