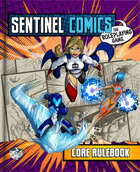 Supers Week is on now!
Save the Day...and your wallet! The Sentinel Comics RPG, ICONS, Masks: A New Generation, Mutant City Blues, and more are on sale for a limited time during the Supers Week Sale! Save up to 80%! Plus, more than 4000 other Supers games, adventures, villain handbooks, and more are 25% Off all week!
Dungeons & Dragons Back to School Deals!
Save up to 40% on almost 200 Dungeons & Dragons Roll20 compatible titles from Wizards of the Coast and Dungeon Masters Guild community content creators in the D&D Back to School Sale over at DMsGuild! The sale includes Baldur's Gate: Descent into Avernus, Curse of Strahd, Fizban's Treasury of Dragons, Call from the Deep, Exploring Eberron, Drizzt's Travelogue of Everything, and more for your virtual tabletop!
New Traveller Comic!
Set in the Charted Space Universe, Far Trader is the tale of a bold group of adventurers who take on a job in the dangerous outback of Aramis Subsector. They just want to make an honest Credit — without getting killed in the process!

For questions about your DriveThruRPG account or problems with your order please use the Contact Us form.