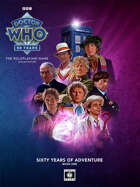 Sixty Years of Doctor Who!
Doctor Who: Sixty Years of Adventure celebrates the world's longest-running science fiction television show, with a joyous time travelling extravaganza. Join Cubicle 7 Entertainment as they highlight the world's most beloved Time Lord's amazing adventures.
Book One takes us back to the scrapyard where it all began, then onwards into all of time and space. Meet the Doctor, explore the TARDIS, and set off on limitless adventures.
Book Two takes us to the shattering end of the Time War. Meet the battle-weary War Doctor, then travel on to distant planets and discover hidden secrets of the Doctor's past.

The Summer of Darkness Sale!
Head over to Storytellers Vault to save on almost 1500 World of Darkness PDFs including Vampire: The Masquerade, Mage: The Ascension, Werewolf: The Apocalypse, and more! Final Day of the Sale!

Ath Cliath: Riverfleet by Ed Greenwood!
Now available in Hardcover is the Ath Cliath Gazateer! This book takes explores Riverfleet, the wealthiest part of the city of Ath Cliath, Pendelhaven's fantasy version of the Viking-ruled future Dublin. Also by Ed Greenwood is The One-Eyed King!

For questions about your DriveThruRPG account or problems with your order please use the Contact Us form.