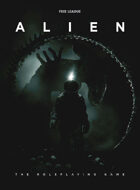 The Cosmic Horror Sale continuess...
Eldritch horrors and strange creatures haunt the land and sky. Save 25% on hundreds of Cthulhu Mythos and Cosmic Horror titles for a limited time!
Call of Cthulhu on your Virtual Tabletop!
You can now shop for Call of Cthulhu core rules, expansions, and Miskatonic Respository community content designed for your Roll20 virtual tabletop at DriveThruRPG!
More horrors await in the Summer of Darkness!
Head over to Storytellers Vault to save on almost 1500 World of Darkness PDFs including Vampire: The Masquerade, Mage: The Ascension, Werewolf: The Apocalypse, and more!
Top Cow Productions Sale!
Cyberforce, Witchblade, Teen Wolf, September Mourning, Tales of Honor, and more are 50% off over at DriveThruComics!

For questions about your DriveThruRPG account or problems with your order please use the Contact Us form.