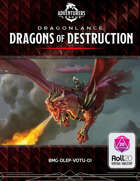 Last Day of the D&D Adventurer's League Sale!
Final day to save on more than 1200 Adventurers League PDFs are on sale now including The Border Kingdoms by Ed Greenwood, the Moonshae Isles Regional Guide, Minsc & Boo's Guide to Stuff and Things, and more!
The Last Day of the Chronicles of Darkness!
Over at Storytellers Vault you have one final day to save 25% on almost 500 Chronicles of Darkness PDFs including Vampire: The Requiem, Hunter: The Vigil, Deviant: The Renegades, Mage: The Awakening, Werewolf: The Forsaken, and more!

The Cosmic Horror Sale is on now!
Cosmic Horror and Cthulhu Mythos tomes on DriveThruRPG, DriveThruComics, and DriveThruFiction are getting in on the summer deals with thousands of mysterious and forboding discounts! Save on Call of Cthulhu, Alien, Arkham Horror, Delta Green, Hellboy, and more!
Warhammer Fantasy Roleplay 2nd Edition Bundle!
For a limited time you can save 80% with the Warhammer Fantasy Roleplay 2nd Edition Bundle deal from Cubicle 7! Venture into the dark corners of the Empire and deal with the threats that others cannot or will not face.

For questions about your DriveThruRPG account or problems with your order please use the Contact Us form.