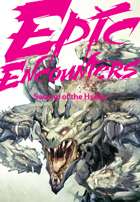 Even More Epic Encounters!
Made for new and experienced players, every Epic Encounters set features an all-in-one boxed encounter that's 5e compatible and ready to play. Steamforged Games have just launched 18 Epic Encounters PDFs for your 5e OGL gaming adventures!
Onyx Path Anniversary Sales!
Onyx Path Publishing is celebrating 11 years! All month long you can save 50% with Onyx Path Bundle Deals! Starting with Exalted, Legendlore, Pugmire, and more! New deals will be available each week for the month of June. Plus, don't miss the Onyx Path Virtual Convention (June 16th – 18th) and participate in online panels, games, and more.

Stranger Stuff Summer Bundle!
Just in time for summer vacation! Save 45% on the softcover editions of the Stranger Stuff RPG from Fat Goblin Games! Stranger Stuff is a rules-light tabletop roleplaying game of 1980s-inspired adventure, horror, and science fiction, where you play as "kids" in their teens.
Epic Boss Battles!
Tune in to watch Ginny Di's new Dungeons & Dragons video: The secret to EPIC boss battles at any level! which includes a mini-review of Home-Field Advantage - A Compendium of Lair Actions available in PDF and hardcover formats on DMsGuild!

For questions about your DriveThruRPG account or problems with your order please use the Contact Us form.