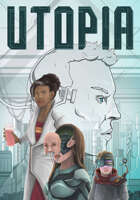 Cyberpunk Week Sale is on now!
The Future is Here! Save on Cyberpunk RPGs this week only! The Cyberpunk RED, Hard Wired Island, Altered Carbon, Utopia, Carbon 2185, and The Worlds of Android PDFs are 75%-80% Off this week only in the Cyberpunk Week Sale! Plus, more than 3000 other Cyberpunk games, maps, adventures, villain handbooks, and more are 25% Off!

Phandelver & Beyond Sale!
Save 25% on almost 200 community content titles including new Adventures, Maps, Monsters, Handouts, and more to supplement your Phandelver games! The Phandelver & Beyond Sale is going on now at DMsGuild! Only a few days left in this sale!
Phandelver and Below: The Shattered Obelisk is available now!

Journey to the beloved town of Phandalin...where a malevolent cult threatens to overtake the region. Together with your party, solve mysteries and stamp out growing corruption as you uncover more about the peculiar happenings plaguing the town.
Phandelver and Below: The Shattered Obelisk is available now for your Roll20 virtual tabletop at DMsGuild!
Dark Heresy Bundle Deal!
You are an Acolyte in the service of the Emperor's Inquisition. For a limited time, you can save 85% with the Dark Heresy Bundle deal from Cubicle 7 Entertainment! 20 PDFs for only $49.99 (regularly $334.40)!

For questions about your DriveThruRPG account or problems with your order please use the Contact Us form.