Follow Your Favorites!
Sign in
to get custom notifications of new products!

Featured Product
Five Days at Camp Wedowanna (PocketQuest 2022)
by Critical Press Media
Spend the next week at Camp Wedowanna! Based on the award-winning Fate system, your Kid will explore the forest, swim Lake Wedowanna, prank the counselors, and tackle the legendary Party Pit! So grab your canteen, scoop up your Wilderness Journal, and change your life at Camp Wedowanna!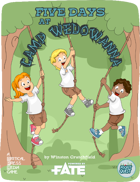 | Products found in this section... | Sort by: |
| --- | --- |
| | | |
| --- | --- | --- |
| Title | Publisher | Price |
| Lace up your skates, you're on track for adventure! Get ready for the greatest sport on eight wheels, the Unauthorized Sport: Roller Derby! Roller Derby Road Trip is a blast of confetti, glitter, gender euphoria and feats of skating prowess never before seen on this planet! Take your game on the road as the roller derby team of your dreams as you investigate strange mysteries and take on the weird... [click here for more] | Artemis Words | $1.95 |
| There is a place where children go to become heroes, only discovered by a desperate few when they need it most. Here, they escape from their normal lives, slay giants, solve riddles, learn magic, and become kings and queens. Children grow up and the fantasies of childhood are forgotten.  But now the realm you once protected is under attack.  You must leave behind your life,... [click here for more] | Evil Hat Productions, LLC | Pay What You Want |
| Part of the PocketQuest 2022 summer camp game design jam! In the tradition of summer camp movies like The Parent Trap, Troop Beverly Hills, and Meatballs, it's time to pack up your dice and get back to nature! Powered by  the award-winning Fate system, you will play a Kid spending five days at Camp Wedowanna. Your Kid starts out with problems. What Kid doesn't? The Camp Wedowanna spirit will impart... [click here for more] | Critical Press Media | $2.00 |
| Heavy Metal Thunder Mouse is the ENnie award winning tabletop roleplaying game of mice and their motorcycle clubs! You and your friends make your mice, found your club, and hit the streets. These are mice with the gusto to build their own motorcycles and set off into an intimidating world where they are outsized, but never outclassed. HMTM uses the rules of Fate to tell stories... [click here for more] | Shoreless Skies Publishing | $10.00 |
| Strays is a light-hearted, story-driven, role-playing game where players take on the roles of talking animals, playing as dogs, cats, and other beloved pets.  Explore your neighborhood, defend it from scary critters, and go on exciting adventures, all inspired by the animated classics so many of us grew up with.  Make your own furry companion to dive headfirst into the ongoing struggles... [click here for more] | Wordsmith Games, LLC | $5.00 $3.99 |
| Diciamocelo: la maggior parte dei giochi di ruolo non sono prendi-e-gioca. I manuali giganti e il lavoro di preparazione possono essere divertenti se ne avete il tempo, ma se non ce l'avete? E se cercate un gioco dell'ultimo minuto? E se siete nuovi nel mondo del Gioco di Ruolo e volete un modo senza scocciature per provarne uno? E se voleste introdurre al Gioco di Ruolo i vostri figli con qualcosa... [click here for more] | Dreamlord Press | $5.04 |
| 사건이 일어났습니다. 그리고 범인은 무조건, 이 안에 있습니다. "나는 아닌데…. 혹시…. 너냐?!" 이 게임은 근거 없는 비방과 무책임한 발뺌 등이 난무하는 책임 떠넘기기 탁상 게임입니다. 이야기 속에서 결국 누가 일을 저질렀는지 그다지 중요하지 않습니다. 무조건 남이 잘못한 것입니다. ... [click here for more] | ba5909 | $2.00 |
| Sistemi per Giochi di Ruolo come Fate Sistema Base sono fantastici se hai il tempo e l'energia da mettere nella costruzione di un mondo. Ma sappiamo anche che a volte la preparazione intensiva non è praticabile. Le buone notizie? Potete comunque godervi la bellezza di Fate con l'aiuto delle espansioni "I Mondi di Fate". I Mondi di Fate Volume Uno: Mondi in Fiamme è il primo... [click here for more] | Dreamlord Press | $12.60 |
| GAMETASIA: 8 GREAT TREASURES features eight Classic Tabletop Games—CTG—with five contests played on the Gametasia board and three contests played on the Gametasia chess board. You will experience all the classic board game scenarios with Gametasia; that is, strategy, skill, chance, race, chase, capture, conquest, position, wagering, territorial acquisitions, clairvoyance, word power,... [click here for more] | Millennium Adventures | $1.99 |
| Have you been looking for a tabletop role-playing game to emulate bending the Four Elements much like everyone's favourite tattooed, bald hero? I had trouble finding it, so I made one. ELEMENTALISM RPG is an RPG that has been in development for the last year and is now ready for a playtest! Grab your friends, build some characters, and have a good time. Powered by the FATE RPG ruleset,... [click here for more] | Erelim Publishing | FREE |
| A new monster for your game - FLEAER ... [click here for more] | Andrzej Buhlak | Pay What You Want |