Follow Your Favorites!
Sign in
to get custom notifications of new products!

Featured Product
Court of Blades - Scandal, Forged in the Dark
by A Couple of Drakes
Court of Blades is a game of noble houses and the daring retainers who advance their agendas in a fantastic city of intrigue and danger. Power politics, Renaissance magic, gunpowder diplomacy, and romantic skullduggery await those who seek power and prestige.
Will your noble retainer play the Great Game and win? Play to find out!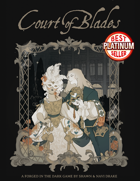 | Products found in this section... | Sort by: |
| --- | --- |
| | | |
| --- | --- | --- |
| Title | Publisher | Price |
| Court of Blades is our successfully Kickstarted, campaign-length, Forged in the Dark game of power politics, gunpowder diplomacy, renaissance magic, and romantic skullduggery.  This PDF comes complete with a Quickstart Kit with starting scenarios and pregenerated characters to get you into the action immediately, and a bonus Artbook.... [click here for more] | A Couple of Drakes | $25.00 |
| Additional playsets for In the Dark. These playsets allow you to play a Forged in the Dark game set in the Golden Age of Sail or the Wild West *Requires the free In the Dark base game ... [click here for more] | David Brunell-Brutman | $2.00 |
| Step inside a baroque urban nightmare, the world of a|state. In The City you'll fight off threats to your canalside home, trying to make this grim and haunted place safer and better, somehow. a|state brings a new, hopeful approach to the much-loved Forged in the Dark ruleset. Your ability to Care counts as much as your ability to Fight. Create Troublemakers such as the deft and deadly Ghostfighter,... [click here for more] | Handiwork Games | $19.99 |
| Something untoward is occurring at Folly Hills Dog Track. Unfancied hounds are winning races... Competitive dogs are going to the pot... The turnstiles are no longer thick with punters... What has cast a shadow over the once-thriving Track? Explore the cutthroat world of the dog track, the home of avaricious betting syndicates, vicious organised crime... [click here for more] | Handiwork Games | $4.99 |
| Life in Ilrien, the greatest city in this or any other age, is full of complexities and maneuverings that are purpose-built and carefully devised to ensnare the unwary. Live there your entire life and you'll still find some fresh twist of intrigue just around the corner. Forewarned is armed, Retainer. You play a dangerous game, and it would serve you in good stead to know the rules ahead of time.... [click here for more] | A Couple of Drakes | $5.00 |
| Ask anyone why Ilrien is the greatest city of this--or any other-- age, and you will, after a brief argument be assured that it is owed to the people. The variety of viewpoints, the cosmopolitan methods of expression, this is the real treasure of Ilrien. At least so long as you do not ask the Bank of Brass and Bone.  It is in this spirit, to pay it --and some of our favorite Indie luminaries-- tribute that... [click here for more] | A Couple of Drakes | $5.00 |
| Bootleggers is about a gang of criminals smuggling alcohol during prohibition in Seattle, Washington in 1930. Roy Olmstead, the so-called "good bootlegger" and ex-cop, runs 90% of the city's illegal alcohol business and has bribed almost every police officer and city official to support his operation. The remaining scraps of booze trafficking, still worth a small fortune, are fought... [click here for more] | One Seven | $5.00 |
| This is Slugblaster In the small town of Hillview, teenage hoverboarders sneak into other dimensions to explore, film tricks, go viral, and get away from the problems at home. It's dangerous. It's stupid. It's got parent groups in a panic. And it's the coolest thing ever. This is Slugblaster. A table-top rpg about teenagehood, giant bugs, circuit-bent rayguns, and trying to be cool. Welcome... [click here for more] | Wilkie's Candy Lab | $20.00 $5.00 |
| As the Sun Forever Sets is a Survival Horror Hexcrawl about interpersonal conflict and survival, inspired by The War of the Worlds. We play a group of ordinary Victorian people embroiled in the chaos of the British Empire, as it collapses under the overwhelming weight of an invasion from Mars. After 15 days, the Martians succumb to the micro-organisms of Earth – long eradicated from the Red Planet.... [click here for more] | Riley | $20.00 $10.00 |
| Nαυαγόι - Mythic Heroes Forged in the Dark ENG - A handful of heroes are sailing home, returning from a war, when their ship is victim of a shipwreck. The few survivors wake up on the beach of an unknown island, among the scattered wrecks of their boat: they will have to explore the island and face its obstacles to recover a ship to take them home.  You are one of... [click here for more] | Vittorio De Stefano | Pay What You Want |
| Shibuyan Knights is an Anime style RPG that lets you play adventures like some of your favorite Anime shows and movies. It ships with the steampunk, magical world of Shibuya, where everything works on favors, and as you rise in Reputation Level, you gain more influence and power in the city. Inspired by Vincent and Meguey Baker's Apocalypse World and John Harper's Blades... [click here for more] | AshyFeetGames | $15.00 |
| Nasty, Brutish, & Long is a tabletop role-playing game about class war and revolution in your own fantastical setting. Based on the Forged in the Dark system, this rules-light game puts characters divided by class and resources front and center in a world on the brink of permanent change. Will your bastard noble defend their small town from the Church's magic-hunting inquisition? Will... [click here for more] | Not Writing Games | $8.00 |
| Nicely, Done is a short mission for the new edition of a|state, along with a beautiful primer to the setting of The City. Mire End is a forlorn place: miles of brick and concrete tenements, all slowly disintegrating. Water covers the streets, the drainage systems destroyed long ago. The damp and rotting lower floors of most buildings are left empty. Denied help by the powerful... [click here for more] | Handiwork Games | FREE |
| This special bundle product contains the following titles. Blades in the Dark Regular price: $16.00 Bundle price: $20.00 Format: PDF Winner: 2015 Golden Geek, RPG of the Year Winner: 2016 Indie RPG Award, Game of the Year (also Best Production and Best Support) Blades in the Dark is a tabletop role-playing game about a crew of daring scoundrels seeking their... [click here for more] | One Seven | $27.00 $23.00 |