Follow Your Favorites!
Sign in
to get custom notifications of new products!

Featured Product
Old-School Essentials Classic Fantasy: Rules Tome
by Necrotic Gnome
100% old-school rules, 100% modern design!
A complete dungeon-delving, hex-crawling, domain-building game all in one tome.
100% compatible with the classic Basic/Expert rules.
Written and laid out for ease of reference at the table.
Heavily illustrated, including 40 pages of full colour art!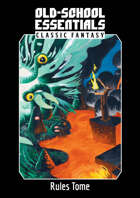 | Products found in this section... | Sort by: |
| --- | --- |
| | | |
| --- | --- | --- |
| Title | Publisher | Price |
| ALTERNATE MAGIC is a collection of mechanics for old school and OSR systems.   If you like "Basic" games and its clones (Old School Essentials, Basic Fantasy RPG, Labyrinth Lord, etc.), or even other OSR games, and want to expand magic options, you'll certainly enjoy this one!   This book is compatible with Dark Fantasy Basic, including a specific chapter on conversions. Some ideas can serve... [click here for more] | Chaos Factory Books | $4.99 |
| Issue 2 of Carcass Crawler — the official Old-School Essentials zine! Each issue is packed with new material for your games, including new character classes and races, new spells and magic items, new monsters, optional and expanded rules, referee advice, news, previews of in-development products, short adventures, and more! In This Issue New classes and races:... [click here for more] | Necrotic Gnome | $7.50 |
| When Sea Is Calling is a handbook for adventures at sea. It has everything you will need to start your journey as a sailor (generators, maps, tables, monsters and more!). This product contains: an overview of 7 types of boats, with a short description and a rating (one to five) on topics such as attack, defense, maniability, speed and price, a boat generator (general characteristics, hold,... [click here for more] | Atelier Clandestin | $4.99 |
| OLD SCHOOL SOLO Old-School Essentials version This solo roleplaying supplement is written specifically to feel like natural OSR RPG rules. If you are comfortable with rolling to see if you encounter a wandering monster and then rolling to see what it is, then you can work these rules! Most of the rules in this add-on rulebook condense down into just four tables, the rest of the content is all supporting... [click here for more] | Parts Per Million | $4.95 |
| This generator works as a standalone product but it was designed to be used with our Wilderness Pointcrawl Generator. With this pointcrawl generator, explore the sea and head towards the unknown! This supplement contains: 3 pages to generate biomes types (beach, sea, island), adjacent nodes and links between them, 4 pages to populate the nodes with points of interest (landmarks,... [click here for more] | Atelier Clandestin | $2.00 |
| This City Pointcrawl Generator allows you to create cities of various sizes, with different types of districts and to locate all the points of interest you may find in it! This product is in A5 format, has a printable black & white cover page and can easily be printed as a booklet. It comes with: -3 tables describing the size, characteristics and appearance of the city, -2 pages for the generation... [click here for more] | Atelier Clandestin | $2.50 $2.00 |
| Remember that time you got cursed and horns started growing on your forehead? With our list of 100 Low Fantasy Curses, prepare for the worst every time you get cursed... This product: - contains 100 curses, each with an original name and the description of its effects, - is in A5 format, has a black and white cover page and can easily be printed into a booklet. ... [click here for more] | Atelier Clandestin | $1.00 $0.80 |
| The essential old-school game of fantastic adventure, monsters, and magic — expanded with advanced character options and spells! Complete Player's Tome This book contains the complete game rules, 13 fantastic classes (acrobat, assassin, barbarian, bard, cleric, druid, fighter, illusionist, knight, magic-user, paladin, ranger, thief), 10 classic races (drow, duergar, dwarf, elf,... [click here for more] | Necrotic Gnome | $15.00 $12.00 |
| There is always something unsuspected going on in a tavern... This product: - contains 60 situations in total, which are split into 6 different locations (cellar, dining hall, kitchen, lobby, outside, rooms), - has 3 black and white vector illustrations, - is in A5 format, has a black and white cover page and can easily be printed into a booklet. ... [click here for more] | Atelier Clandestin | $1.00 |
| With this City Name Generator, you can create a large variety of original names. This product: - is in A5 format and can easily be printed as a booklet, - has a printable black & white cover page, - contains 1 table with 30 different name structures (with exemples), - contains 8 tables with names, adjectives, suffixes and prefixes to form the names, - has 1 black & white vector illustration.... [click here for more] | Atelier Clandestin | $1.00 $0.80 |
| A complete guide to running sandbox wilderness hex crawls for use with old-school table-top fantasy role-playing games! Made for OSR games, but easily adaptable to any old-school system. What makes this title different from other hex crawl guides? This one is meant to be concise and easy to use/print for both prep and in-game. It's not so granular, with multiple sub-tables that span several pages.... [click here for more] | BroadSwordBard | Pay What You Want |
| The first issue of Carcass Crawler — the official Old-School Essentials zine! Each issue is packed with new material for your games, including new character classes and races, new spells and magic items, new monsters, optional and expanded rules, news, previews of in-development products, short adventures, and more! In This Issue New classes: Six new... [click here for more] | Necrotic Gnome | $7.50 $6.00 |
| Tired of eating the same thing over and over again at the tavern? Spice up your meals with this full course Tavern Menu Generator! This product contains: a printable black and white cover page, 6 tables of 6 to 20 items, for each part of the meal (drink, snack, appetizer, soup, main dish and dessert), 1 black and white vector illustration. ... [click here for more] | Atelier Clandestin | $0.75 |
| The essential old-school game of fantastic adventure, monsters, and magic — expanded with advanced monsters and treasures! Referee's Tome of Monsters and Treasures This book contains full guidelines for creating and running adventures, over 300 fearsome monsters, and over 300 wondrous magic items. Simple rules let imagination and fast-paced action take the spotlight. Clear, modern... [click here for more] | Necrotic Gnome | $15.00 $12.00 |
| Looking for enemies on your level? We've got you covered with our Dragon Generator. This product contains:  9 tables to generate the description of the dragon (name, alignment, size, age, breath, color, strength, weakness, favorite food, status), 7 tables for the stats (hit points, armor class, saving throws, morale and damage), 3 tables about the dragon's lair and its treasure, 10 dragon-related... [click here for more] | Atelier Clandestin | $1.00 |
| This Tavern Sign Generator contains 8 tables to help you describe an original sign for every tavern your characters may visit. These tables will tell you about the shape, the material, the position, the mounting, the content of your sign, and more! This product also contains 3 black and white vector illustrations. It is in A5 format, has a black and white cover page, and can easily be printed as... [click here for more] | Atelier Clandestin | $1.00 |
| Note: The "color print" format is a black-and-white book, but is printed on thicker, higher-quality paper than the standard black-and-white hardcover. "A seriously f*$d up 65 room dungeon that will present a strange, alien-like slime environment, the likes of which are seldom seen in an rpg adventure. Which is a good thing." - Tenfootpole  This OSRIC/OSR adventure... [click here for more] | G. Hawkins | $7.50 $6.00 |
| A bubbling stream cascades into a hole in the earth, leading to a series of underground watercourses and scintillating grottoes. Adventurers who delve within may discover odd mosses and fungi, a ruined temple complex, and the lair of a crystal-eating dream dragon. A classic expedition into the Mythic Underworld for characters of 1st to 2nd level. 57 keyed areas, rumour table,... [click here for more] | Necrotic Gnome | $7.50 $6.00 |
| Castle Oldskull Old School Dungeon Design Modules For Advanced / Basic / Expert Fantasy Role-Playing Systems Module CO39: Oldskull Steading Companion (Monsters / Random Tables / Treasure) Fee, fie, foe, fum, I smell the blood of a Grimrookman. Be he alive,... [click here for more] | Kent David Kelly | $4.99 |
| With the rising of the Blood Moon, the accursed abode of the Blood King returns to this world. The lord of all vampires comes to claim the blood that is owed to him. His halls contain treasures and secrets that would make any ambitious adventurer abandon reason and caution to seek them out. Will you risk your soul for gold and glory in the Halls of the Blood King? A fantasy horror... [click here for more] | Necrotic Gnome | $7.50 $6.00 |
| Into the Wild is written for Old School Essentials but can be easily adapted for use with any OSR-style game. It combines and expands on six books by Third Kingdom Games: Classing up the Joint, Domain Building, Hexcrawl Basics, Random Weather Generation, OSR Expanded Classes, and Wealth by NPC level. Designed to be used alone or as a companion book to Filling in the Blanks and a Guide to Thieves'... [click here for more] | Third Kingdom Games | $12.95 $10.36 |
| The essential old-school game of fantastic adventure, monsters, and magic! A Complete Game All in One Book This book contains everything a referee needs: the complete game rules, full guidelines for creating and running adventures, 7 fantastic character classes, full equipment lists, over 100 classic spells, over 200 fearsome monsters, and over 150 wondrous magic items. Simple rules... [click here for more] | Necrotic Gnome | $20.00 $12.00 |
| The Tavern from Hell is a Labyrinth Lord adventure for 4 to 6 characters of 1st to 3rd level. A local tavern, known as a hive of scum and villainy, has fallen under the powerful curse of an angry wizard. The locals and the heirs of the taverner are offering an exorbitant sum for adventurers to go in and perform the needful actions to lift the curse.... [click here for more] | James Mishler Games | $3.00 |
| An ancient temple to the forgotten god of swords lies hidden behind a waterfall. Great piles of swords choke its halls and spill out into nearby streams and waterways. What strangeness still treads and what swords will you draw in the Temple of 1000 Swords? ***Rated "THE BEST" by Bryce Lynch of Tenfootpole*** A tarot-inspired fantasy RPG dungeon delve for 3rd level characters Created... [click here for more] | Swordlords Publishing | $5.99 |
| A Sorcerer class for Old-School Essentials. No art, printer friendly, pay what you want. Avenir font for easy reading. The class takes up 3 pages. A5 format. Spell casters whose blood runs with the magic of some powerful ancestor are a common archetype in fantasy stories and historic myths. Devils, gods, dragons, serpent kings, fairy lords, and more have meddle with mortals and left their mark on... [click here for more] | Wyrd Valley Press | Pay What You Want |
| A Warlock class for Old-School Essentials. No art, printer friendly, pay what you want. Avenir font for easy reading. The class takes up 3 pages, 2 for the traditional OSE-style class spread and 1 for the four patrons to choose from. Warlocks have haunted our stories for centuries and have become a staple of fantasy roleplaying games over the last decade or so. Spellcasters who gain magical power... [click here for more] | Wyrd Valley Press | Pay What You Want |
| Filling in the Blanks is a guide to populating hexes with lairs and features to use in fantasy role-playing games. While written specifically for Necrotic Gnome's Old School Essentials it is compatible with virtually all OSR-style games, and can be used with more modern versions of the game with little effort. It provides tables for randomly generating the number and type of lairs and features that... [click here for more] | Third Kingdom Games | $10.95 $8.76 |
| Castle Oldskull Old School Dungeon Design Modules For Advanced / Basic / Expert Fantasy Role-Playing Systems Module CO1: The Classic Dungeon Design Guide (Dungeons / Lore / Random Tables) Deep dwarven cities of the underworld, Infested by conquering orcs, ... [click here for more] | Kent David Kelly | $4.99 $2.99 |
| Welcome to the Crystal Frontier, a desolate magic stained wasteland where fabulous crystal spires and fortresses plummet from the skies to tempt the desperate and the bold with magical gems and golden treasures. Find your fortune or find your death as you plunder the fallen sky tomb of an Empyrean despot. SCHEME with the unnatural denizens of the Crystal Tomb! UNRAVEL the... [click here for more] | Ratking Productions | $7.50 $6.00 |
| Enter a garden of earthly delights. The sun has stopped setting over the king's favorite garden. It seemed like a harmless curiosity at first but the animals have turned violent and strange alien beings have appeared. The duke has placed a bounty for enterprising sell-swords to end the curse of endless daylight.  Hideous Daylight is an adventure module for Old-School Essentials... [click here for more] | Swordlords Publishing | $5.99 $4.79 |
| The tomb of an ancient hero, lost in the tangled depths of the woods. A ring of standing stones, guarded by the sinister Drune cult. A fairy princess who watches with ageless patience from beyond the veil of the mortal. A forgotten treasure that holds the key to her heart. Winter's Daughter is a romantic fairy-tale dungeon adventure set in the creepy old forest... [click here for more] | Necrotic Gnome | $7.50 $4.50 |
| "The following is a compilation containing the eight best entries of the universally celebrated and critically-acclaimed No Artpunk competition. You will find therein no fancy layouts, graphic design high-school projects, goofy ideas or political finger-wagging. Instead the talents of these chosen few have been devoted to that highest achievement: the creation of great adventures using oldschool rulesystems.... [click here for more] | The Merciless Merchants | FREE |
| With this simple generator you will be able to create memorable castles on the fly. Whether during wilderness exploration or domain play, your players will inevitably encounter castles and its attached domain. Now you will be able to manage your players visiting or besieging them more easily. This supplement contains: A table of content A castle name generator (720 possibilities) Numerous tables... [click here for more] | Atelier Clandestin | $1.00 $0.80 |
| Planar Compass Issue 2: Buccaneers of the Big Black! The second issue in our interplanar odyssey welcomes you to the deep end of the Astral Sea! Here there be strange sights, ever changing environmental dangers, and monsters the likes of which you've never seen. A supplement for Old-School Essentials and other classic RPG systems such as Swords and Wizardry, Labyrinth Lord, etc. building upon the... [click here for more] | Planar Compass | $8.00 $6.40 |
| Quick reference for Old-School Essentials Advanced Fantasy, compiling the most important tables, rules, and procedures into a convenient 32-page booklet: Game procedures: Summaries of the core rules of the game, including the procedures for dungeon, wilderness, and waterborne adventuring, and combat. Monsters: Complete dungeon encounter tables and monsters listed... [click here for more] | Necrotic Gnome | $4.00 $3.20 |
| Need a place to start a campaign? Or to get a well-deserved rest after an adventure? Generate a detailed tavern with this product. This product includes: a black and white printable cover page, 12  tables (tavern name, decoration, rumors, bartender, servers, patrons, entertainers, activities, backstory of the tavern, best free room, special room, outside), 4 black and white vector illustrations. This... [click here for more] | Atelier Clandestin | $1.50 $1.20 |
| Take the guesswork out of creating new classes for B/X-style RPGs The B/X Options: Class Builder is the only race-as-class creation system 100% compatible with the classic fantasy classes presented in the core rules. Infinitely scalable for any setting or genre, the B/X Options: Class Builder lets you create new (or modify existing) classes guaranteed to match the level progression rates of the canon.... [click here for more] | The Welsh Piper LLC | $9.99 $7.99 |
| A hole in an old oak tree leads characters down to a maze of twisting, root-riddled passageways, the chambers of an ancient wizard-complex, and the banks of an underground river where once a reptile cult built their temples. A classic expedition into the Mythic Underworld for characters of 1st to 2nd level. 60 keyed areas, rumour table, loot summary, dungeon background info,... [click here for more] | Necrotic Gnome | $7.50 $4.50 |
| Thunder and quake have come to the old town. Towers crumble, homes tumble, the quick become the dead. What omen could be more obvious? The Pharaoh Fish under the mountain is displeased. This God must be propitiated. Brave heroes must venture to buy the city's salvation. At the very least, the Town Council needs to appear in control and send some 'expert adventurers' into the depths. A... [click here for more] | Necrotic Gnome | $7.50 $6.00 |
| An idyllic cove harbours deep secrets. Magic and sound are entwined harmoniously, while dark things lurking in the depths rise to explore new avenues through previously locked portals. Adventurers will be changed as they explore the depths of the Undertower, unlock strange musical puzzles, and reveal the glorious treasures of the Isle of the Plangent Mage. A fantasy adventure... [click here for more] | Necrotic Gnome | $7.50 $6.00 |
| This supplement expands Old-School Essentials Classic Fantasy with character options inspired by the beloved 1970s Advanced rules: 9 human classes: acrobat, assassin, barbarian, bard, druid, illusionist, knight, paladin, ranger. 6 demihuman race-classes: drow, duergar, gnome, half-elf, half-orc, svirfneblin. Optional rules for creating characters by choosing race and class separately. All new classes... [click here for more] | Necrotic Gnome | $7.50 $4.50 |
| "...an excellent new setting..." - Gavin Norman, creator of Old School Essentials and Dolmenwood "...great concrete advice...a lot of clever work...great if you want [something in a] classic fantasy or fairy tale vein..." - Ben Milton, The Questing Beast "Magnificent! What an incredible work." - Diogo Nogueira, Ennie-award winning author of Halls of the Blood King "...so... [click here for more] | Crowbar Creative | $7.00 |
| There could be several reasons to seek adventure in the Gemthrone Wilderness. It is a region that is the subject of speculation on cold nights in the glow of a tavern hearth. Some may talk of the magnificent treasures that have laid untouched for centuries in dark dungeons, just waiting to be pilfered—which is, almost without fail, followed by another who interjects with the dangers of... [click here for more] | Gelatinous Cubism | $10.00 $8.00 |
| This book combines the Compiled Basilisk Hills cluster with the Supplemental book, creating a hexcrawl region of 107 total 6-mile hexes. Populated Hexes Monthly Issue 0 is a free gazetteer that provides information on the setting, although this hexcrawl can be easily plugged into any existing fantasy world. Supplemental Hexcrawl Consisting of 98 6-mile hexes that... [click here for more] | Third Kingdom Games | $22.96 $18.37 |
| Something fell. A sickly gloaming lit up the night like mock daylight, just for a monent, and then the hills trembled. Now, an alien entity lies brooding in a crater gouged out of the moor. Local folk are enraptured with the toothsome jelly exuded by this being, but are blind to the true nature of the events unfolding in their rustic little backwater. The Weird That Befell Drigbolton... [click here for more] | Necrotic Gnome | $7.50 $4.50 |
| This supplement expands Old-School Essentials Classic Fantasy with 120 terrifying, weird, and wonderful monsters inspired by the beloved 1970s Advanced 1st Edition rules: Mimics, piercers, shambling mounds, banshees, coffer corpses, terrible eyes, metallic dragons, liches, drow, deep ones, the terrifying tarrasque and many more classic Advanced era monsters! Includes complete encounter tables... [click here for more] | Necrotic Gnome | $7.50 $6.00 |
| This supplement to the 1979 Game Master's Guide – as originally authored by E. Gary Gygax and the worthy sages of TSR – provides several decades' worth of comprehensive improvements, expansions, errata, clarifications, rulings, and interpretive aids for the Advanced rules set of the world's foremost Fantasy Role-Playing Game. Supplementary notes, provided for particularly enterprising Game... [click here for more] | Kent David Kelly | $4.99 $3.99 |
| With this generator, explore wild and mysterious lands of different biomes, discover natural and artificial landmarks, and investigate isolated ruins. This product contains: - 2 pages to generate biome types (grassland, forest, hills, swamp, mountains), adjacent nodes and links between them, - 6 pages to populate the nodes with points of interest (landmarks (300), settlements, lairs, ruins and... [click here for more] | Atelier Clandestin | $2.50 $2.00 |
| This book provides an abstract system for running thieves' guilds in any OSR-style game. While written for Old School Essentials, the system contained is easily adapted to other rulesets. It provides guidelines for establishing and recruiting for a guild, generating revenue, and resolving conflicts with rival Guilds, with a focus on higher-level play for thief and assassin characters. ... [click here for more] | Third Kingdom Games | $5.95 $3.57 |
| This supplement expands Old-School Essentials Classic Fantasy with spells inspired by the beloved 1970s Advanced rules: 34 druid spells from 1st to 5th level. 72 illusionist spells from 1st to 6th level. All spells presented in a quick-to-reference, bullet point format. The descriptions of the bard, druid, gnome, illusionist, and ranger classes are found in the companion book, Advanced Fantasy... [click here for more] | Necrotic Gnome | $7.50 $4.50 |