Follow Your Favorites!
Sign in
to get custom notifications of new products!

Featured Product
Hermit's Hutch Paper Model
by Dave Graffam Models
Need a lot of great-looking terrain without a big investment? Fold-up card models could be the answer for you. Dave Graffam Models kits like this Hermit's Hutch are designed to be easy to print and assemble, and this one includes multiple skins so you can print it several times, each with a different appearance.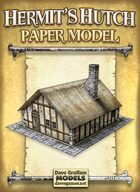 | Products found in this section... | Sort by: |
| --- | --- |
| | | |
| --- | --- | --- |
| Title | Publisher | Price |
| A Feast Fit for a King The smell of roasting meat fills the hall. Gossips whisper. Amours exchange furtive glances. A fight nearly breaks out. But then, with a fanfare of trumpets, the lord and lady enter—the feast is about to begin! The Book of Feasts and the companion Feast Deck bring a a new format (in the form of a mini-game) that elevates feasts to the same level as tournaments and battles,... [click here for more] | Chaosium | $12.99 |
| For use with Tiny Pirates. The physical duel deck is designed to accentuate the optional dueling mechanics in Tiny Pirates. You need one copy per player, but the PDF is included with your PDF purchase of Tiny Pirates.  ... [click here for more] | Gallant Knight Games | $1.99 |
| Easy to build: This paper model kit is easy to assemble, requiring just cardstock paper sheets to print on (110 lb. or 199gsm recommended), scissors, hobby knife, paper glue, aluminum ruler and cutting mat. Assembly time is about an hour. 15mm to 30mm scale: This model is designed at the popular 28mm-30mm gaming scale, and can be shrunk down to 15mm, 20mm or 25mm... [click here for more] | Dave Graffam Models | $1.95 |
| EASY TO BUILD: This paper model kit is easy to assemble, requiring just cardstock paper sheets to print on (110 lb. or 199gsm recommended), scissors, hobby knife, paper glue, aluminum ruler and cutting mat. Assembly time is about an hour. 15MM-30MM SCALE: This model is designed at the popular 28mm-30mm gaming scale, and can be shrunk down to 15mm, 20mm or 25mm... [click here for more] | Dave Graffam Models | $1.95 |
| Easy to build: This paper model kit is easy to assemble, requiring just 13 cardstock paper sheets to print on (110 lb. or 199gsm recommended), scissors, hobby knife, paper glue, metal ruler and cutting mat. Optionally, you may use a piece of foamcore cut to 6" x 9" for the ground piece. 15mm to 30mm scale: This model is designed at the popular 28mm-30mm gaming scale,... [click here for more] | Dave Graffam Models | $3.95 |
| Easy to build: This paper model kit is easy to assemble, requiring just cardstock paper sheets to print on (110 lb. or 199gsm recommended), scissors, hobby knife, paper glue, aluminum ruler and cutting mat. Assembly time is about half an hour per wagon. 15mm to 30mm scale: This model is designed at the popular 28mm-30mm gaming scale, and can be shrunk down to 15mm,... [click here for more] | Dave Graffam Models | $1.95 |
| Easy to build: This paper model kit is easy to assemble, requiring just 13 cardstock paper sheets to print on (110 lb. or 199gsm recommended), scissors, hobby knife, paper glue, metal ruler and cutting mat. Optionally, you may use a piece of foamcore cut to 6" x 9" for the ground piece. 15mm to 30mm scale: This model is designed at the popular 28mm-30mm gaming scale,... [click here for more] | Dave Graffam Models | $2.95 |
| Easy to build: This paper model kit is easy to assemble, requiring just cardstock paper sheets to print on (110 lb. or 199gsm recommended), scissors, hobby knife, paper glue, aluminum ruler and cutting mat. Assembly time is under an hour. 15mm to 30mm scale: This model is designed at the popular 28mm-30mm gaming scale, and can be shrunk down to 15mm, 20mm or 25mm... [click here for more] | Dave Graffam Models | $1.95 |
| Easy to build: This paper model kit is easy to assemble, requiring just cardstock paper sheets to print on (110 lb. or 199gsm recommended), scissors, hobby knife, paper glue, aluminum ruler and cutting mat. Assembly time is about half an hour. 15mm to 30mm scale: This model is designed at the popular 28mm-30mm gaming scale, and can be shrunk down to 15mm, 20mm or... [click here for more] | Dave Graffam Models | $1.95 |
| Easy to build: This paper model kit is easy to assemble, requiring just cardstock paper sheets to print on (110 lb. or 199gsm recommended), scissors, hobby knife, paper glue, aluminum ruler and cutting mat. Assembly time is about an hour. 15mm to 30mm scale: This model is designed at the popular 28mm-30mm gaming scale, and can be shrunk down to 15mm, 20mm or 25mm... [click here for more] | Dave Graffam Models | $1.95 |
| Easy to build: This paper model kit is easy to assemble, requiring just cardstock paper sheets to print on (110 lb. or 199gsm recommended), scissors, hobby knife, paper glue, metal ruler and cutting mat. Optionally, you can use a piece of foamcore for the base. 15mm to 30mm scale: This model is designed at the popular 28mm-30mm gaming scale, and can be shrunk down... [click here for more] | Dave Graffam Models | $1.95 |
| Easy to build: This paper model kit is easy to assemble, requiring just cardstock paper sheets to print on (110 lb. or 199gsm recommended), scissors, hobby knife, paper glue, aluminum ruler and cutting mat. Assembly time is about half an hour. 15mm to 30mm scale: This model is designed at the popular 28mm-30mm gaming scale, and can be shrunk down to 15mm, 20mm or... [click here for more] | Dave Graffam Models | Pay What You Want |
| Easy to build: This paper model kit is easy to assemble, requiring just cardstock paper sheets to print on (110 lb. or 199gsm recommended), scissors, hobby knife, paper glue, aluminum ruler and cutting mat. Assembly time is about an hour. 15mm to 30mm scale: This model is designed at the popular 28mm-30mm gaming scale, and can be shrunk down to 15mm, 20mm or 25mm... [click here for more] | Dave Graffam Models | $1.95 |
| Easy to build: This paper model kit is easy to assemble, requiring just cardstock paper sheets to print on (110 lb. or 199gsm recommended), scissors, hobby knife, paper glue, aluminum ruler and cutting mat. Assembly time is about an hour. 15mm to 30mm scale: This model is designed at the popular 28mm-30mm gaming scale, and can be shrunk down to 15mm, 20mm or 25mm... [click here for more] | Dave Graffam Models | $1.95 |
| Easy to build: This paper model kit is easy to assemble, requiring just 6 or 7 cardstock paper sheets to print on (110 lb. or 199gsm matte stock recommended), scissors, hobby knife, paper glue, metal ruler and cutting mat. For better results, a foamcore base can be used. 15mm to 30mm scale: This model is designed at the popular 28mm-30mm gaming scale, and can be... [click here for more] | Dave Graffam Models | $2.95 |
| Easy to build: This paper tiles set is easy to create, requiring just cardstock paper sheets to print on (110 lb. or 199gsm recommended), scissors, hobby knife, aluminum ruler and cutting mat. 15mm to 30mm scale: These tiles are designed at the popular 28mm-30mm gaming scale, and can be shrunk down to 15mm, 20mm or 25mm scales by simply adjusting the print size... [click here for more] | Dave Graffam Models | $1.95 |
| Easy to build: This paper model kit is easy to assemble, requiring just cardstock paper sheets to print on (110 lb. or 199gsm recommended), scissors, hobby knife, paper glue, aluminum ruler and cutting mat. Assembly time is about an hour. 15mm to 30mm scale: This model is designed at the popular 28mm-30mm gaming scale, and can be shrunk down to 15mm, 20mm or 25mm... [click here for more] | Dave Graffam Models | $2.95 |
| Return now to dying Mars in its last age of glory. A planet of flashing swords and choking sands, of winking courtesans and lantern-lit canal cities. Mars, where fortune and death are two sides of the same obsidian chit, where lost cities and dry oceans stretch between the last bastions of civilization. These Cavaliers of Mars Talent and Path Cards enhance the systems found... [click here for more] | Onyx Path Publishing | $4.99 |
| Easy to build: This paper model kit is easy to assemble, requiring just cardstock paper sheets to print on (110 lb. or 199gsm recommended), scissors, hobby knife, paper glue, aluminum ruler and cutting mat. Assembly time is about half an hour. 15mm to 30mm scale: This model is designed at the popular 28mm-30mm gaming scale, and can be shrunk down to 15mm, 20mm... [click here for more] | Dave Graffam Models | $1.95 |
| Easy to build: This is 28mm/30mm-scale paper terrain for wargaming, roleplaying games, miniature dioramas, skirmish games, model railroads, class projects or just for fun. Assembly is quick and easy, requiring only 4 or 5 sheets of cardstock (100# or 199gsm recommended), a sharp hobby knife, scissors and ordinary paper glue. Simple assembly instructions are provided, including tips and advice... [click here for more] | Dave Graffam Models | $2.95 |
| Easy to build: This paper model kit is easy to assemble, requiring just cardstock paper sheets to print on (110 lb. or 199gsm recommended), scissors, hobby knife, paper glue, aluminum ruler and cutting mat. Assembly time is about an hour. 15mm to 30mm scale: This model is designed at the popular 28mm-30mm gaming scale, and can be shrunk down to 15mm, 20mm or 25mm... [click here for more] | Dave Graffam Models | $2.95 |
| Four Million souls and this city still has no heart! Take in the sights of Victorian London With this 130 page Sourcebook detailing the highs and lows of the empire's capital. There's never been a better time to visit... This book contains Characters, Contacts, Monsters, Villains, Maps, and detailed descriptions of each area of Victoriana London. Everything you need to give your Victoriana... [click here for more] | Cubicle 7 Entertainment Ltd. | $5.00 |
| Easy to build: This paper model kit is easy to assemble, requiring just cardstock paper sheets to print on (110 lb. or 199gsm recommended), scissors, hobby knife, paper glue, aluminum ruler and cutting mat. Assembly time is about an hour. 15mm to 30mm scale: This model is designed at the popular 28mm-30mm gaming scale, and can be shrunk down to 15mm, 20mm or 25mm... [click here for more] | Dave Graffam Models | $1.95 |
| Have you ever looked at a particularly alluring female monster your party was facing and thought: "Man, I'd like to roll d20 to hit that!" Well, now you can! MILFs are the monsters you would most like to have a random encounter with. This set of full-color paper miniatures is designed to be compatible with other 25/30mm figures and contains nine different creatures, all scaled to be... [click here for more] | Skirmisher Publishing | $1.99 |
| High School Pack 1 (East Wing) Schools are a great location for adventures, whether your PCs are bike-riding investigators, super-teens, super-cops, or post-apocalyptic survivors. There are endless possibilities. The East Wing of Sourmount High holds the auditorium, the science lab, the music/drama room, and a teachers' lounge. When things get too intense, step outside and shoot... [click here for more] | KidneyBoy | $4.99 |
| Laidback DM's Maps Your Party Will Die For is a book/PDF collection of 24 hand-drawn, gridded, full-color maps with Adventure Seeds, complete with a section on designing your own dungeons. When I'm DM'ing (or GM'ing - let's be fair, it's not all about the world's most popular tabletop role playing game all the time, is it?) I like to have a few maps on hand for when the... [click here for more] | Laidback DM | $20.00 $10.00 |
| Easy to build: This paper model kit is easy to assemble, requiring just cardstock paper sheets to print on (110 lb. or 199gsm recommended), scissors, hobby knife, paper glue, aluminum ruler and cutting mat. Assembly time is about an hour. 15mm to 30mm scale: This model is designed at the popular 28mm-30mm gaming scale, and can be shrunk down to 15mm, 20mm or 25mm... [click here for more] | Dave Graffam Models | $1.95 |
| The complete 2014 Digital Atlas from Arcknight Games Contains every digital map created for the 'Roleplaying Maps by Arcknight' kickstarter. Over 120 maps, each in Grid Squares, Hexes and Gridless format. + various additional maps The 2014 Digital Atlas includes every map we've made to date, and will be periodically updated to include additional bonus maps, new transitions,... [click here for more] | Arcknight | $39.95 |
| 101 all new riddles! J.R.R. Tolkien's book "The Hobbit" had riddles. The "Princess Bride" had riddles. Even Monty Python's "Quest for the Holy Grail" spoofed riddles. They are an entertaining and educational way to pass the time. They are great for parties, barbecues, family get-togethers, and campouts. As far as role-playing is concerned, this book is designed for Game Masters who wish to challenge... [click here for more] | Stainless Steel Dragon | $3.95 |
| Have you ever looked at an alluring monster your party was up against and thought: "Man, I'd like to roll d20 to hit that!" Well, now you can! MILFs are the monsters you would most like to have a random encounter with. This set of full-color paper miniatures is designed to be compatible with other 25/30mm figures and contains nine different creatures, all scaled to be approximately... [click here for more] | Skirmisher Publishing | $1.99 |
| The Wizard's Tower, an Arcknight Roleplaying BattleMap Designed by Arcknight Games, this multi-page PDF gives you 6 floors of a Wizard's Tower, including an entry floor, basement, laboratory, library, quarters and attic. Each section was originally designed for high quality print on 11x17 maps, and the floors of the tower can be rearranged in any order you wish to suit the type of tower you wish... [click here for more] | Arcknight | $4.99 |
| High School Pack 2 (West Wing) Schools are a great location for adventures, whether your PCs are bike-riding investigators, super-teens, super-cops, or post-apocalyptic survivors. There are endless possibilities. The West Wing of Sourmount High holds the large art classroom and the principal's office. Details The pack includes 8 variations of the... [click here for more] | KidneyBoy | $4.99 |
| Gunslingers #1: Wild West - RPG HEROES Set #9 PERMES Fantasy Series This set contains unique 32 front and back artwork Wild West Gunslingers: with one and two weapons (dual wielding), cowboys, bandits, masked robbers, rogues and saloon fighters. Different poses and colour versions, front and side-view poses. All minis, parts, accessories... [click here for more] | PERMES | $2.49 $0.94 |
| The Grand Cathedral, an Arcknight Roleplaying BattleMap Designed by Arcknight Games, this multi-page PDF gives you a series of maps that can be mixed and matched to create anything from a simple Church to a massive Cathedral. The Grand Cathedral is a fantasy roleplaying map pack inspired by Westminster Abbey and St. Pauls Cathedral, and comprised of 8 seperate map sections; Entrance, Nave, Crossing,... [click here for more] | Arcknight | $4.99 |
| Artillery and Supply Train - 30 Years' War PERMES Historical Series This 30 Years' War support/expansion set contains 8 pages with 25 unique front and back multi-part figurines: artillery train with various (including small, mid and siege) cannons harness with horses, mules and pair of oxes, various delivery wagons aith carters, foot porters and... [click here for more] | PERMES | $2.75 |
| High School Pack 3 (Gymnasium) Schools are a great location for adventures, whether your PCs are bike-riding investigators, super-teens, super-cops, or post-apocalyptic survivors. There are endless possibilities. The Gymnasium of Sourmount High: Basketball, Volleyball, Dodgeball! The glory of competition and the humiliations of high school gym class. This is a place for terrifying... [click here for more] | KidneyBoy | $4.99 |
| ELVES - Set 1: Forest Ambush 30mm front and back full color paper minis for RPG games This set includes total 89 pieces: Figurines: 37 (including Archers, Scouts, Squad Leaders, Beastmasters, Rogues) Scenery and props: 7, Optional accessories: 45   ... [click here for more] | PERMES | $2.75 $2.49 |
| A total of 36 ready-for-battle barbarian warrior figurines (incl. warchiefs, berserkers, totem bearers, dual-wielding swordmasters and scouts - different poses, weapons, accessories and colour versions) can be printed out from the first 4 pages of minis. You can also use optional accessories from page 5 - various shape and colour A and B side shields to enhance the pre-prepared minis for extra variety... [click here for more] | PERMES | $2.49 $1.99 |
| Dragonslayers +bonus arts 8 pages with 45 dragonslayers and scenery figurines + accessories! +SPECIAL BONUS: 3 full page arts! This set includes unique detailed front and back art Dragonslayer Order warriors: heavy armored axeman, swordsman with katana and two-wielded sword, pikeman, champions, lady axeman and battle-mage and dragonslayer warrios with tracking lampart! PLUS Dragonslayer... [click here for more] | PERMES | $3.50 $2.50 |
| Cobblestone Streets and The Fireside Inn, an Arcknight Roleplaying BattleMap Designed by Arcknight Games, this multi-page PDF gives you the building blocks to create a large city with cobblestone roads, various large and medium buildings, and a slew of slums, alleys, and coulesacs. In addition, you get the "Fireside Inn" with a Bar, Tavern and Inn maps of various sizes, so you can create exactly... [click here for more] | Arcknight | $4.99 |
| Egyptians 1: Pharaoh's Court PERMES Historical Series This set contains unique 38 front and back artwork Ancient Egypt paper minis (including various versions of pharaoh and his wife, priests, clerks and scribes, servants and guardsmen and more...), props and elements of scenery and additional/optional accessories, so you can enhance or modify your minis. All minis,... [click here for more] | PERMES | $2.75 |
| Reiters - 30 Years' War Cavalrymen A total of 14 ready-for-battle mounted reiter figurines can be printed out from the 3 pages of minis, including generals, officers, banner bearers, trumpeters, charging and caracol tactics reiters with firearms. Perfect addition to previously released  PERMES Pikemen, Musketeers and Artillery 30 Year's War sets! FLAGS MOD-KIT This... [click here for more] | PERMES | $2.75 |
| Artillery #1 - 30 Years War - PERMES Historical Series This set contains 6 2D/Flat guns (3 unique gun versions +modifications), 8 unique gun crew with many various modifications (including accessories, weapons, equipment, colours and mirrored versions), 24 battlefield props... [click here for more] | PERMES | $2.75 |
| Gryphonriders - Dwarves & Elves 7 pages with fantasy gryphonrider figurines including Elven lancers, champion, standardbearer, scout and Dwarven swordsman, axeman and rifleman. SPECIAL FEATURE: MOD-KIT - assemble, modify and enhance YOUR VERY OWN figurines using elements from 4 pages with separate elements: gryphons, riders, weapons and various accessories -... [click here for more] | PERMES | $2.50 |
| Este mazo de cartas es el complemento perfecto para Ryuutama, pues contiene cartas de terreno y clima, ideales para conocer de un vistazo la dificultad y características de la topografía. También contiene cartas con todos los Encantamientos del juego, para que los Viajeros de Arquetipo Mágico lo tengan fácil a la hora de escoger y lanzar sus conjuros. En su versión impresa las cartas... [click here for more] | Other Selves | $3.76 |
| Fantasy Warbeasts - Dwarves & Elves 8 pages with fantasy minis, accessories and 2.5 elements! Premade warbeast figurines with dwarven and elven crew - simple to cut-out, glue and play! SPECIAL FEATURE: MOD-KIT -- build YOUR VERY OWN figurines using various elements!. Mix accessories, add various shields, banners and CREW! You can use figurines and accessories... [click here for more] | PERMES | $2.50 |
| ELVES - Set 3: Elven Cavalry 30mm front and back full color paper minis for RPG and wargaming. This set includes 24 Elven cavalry unique minis and 78 additional accessories (shields, banners etc...). PDF: 7 pages (cover + 4 pages with figurines + 1 page with accessories + info page) ... [click here for more] | PERMES | $2.75 |
| Rogues Thieves and Assassins +ASPECTS Total 11 pages with 7 unique classic characters - total 114 figurines including four ASPECTS! This set contains 7 detailed front and back artwork original fantasy characters and their modifications (different posing, weapons, accessories, mirrored, colours): Thief/Adventurer (with knife, torch,... [click here for more] | PERMES | $3.50 |
| ELVES - Set 2: High Elf Warriors 30mm front and back full color paper minis for RPG games PDF: 5 pages (cover + 4 pages with figures, scenery and accessories) This set includes 108 pieces total: Figures: 41 (including Warlord, Wardens, Skirmishers, Sentinels, Standardbearers, Blademasters) Accessories: 6   ... [click here for more] | PERMES | $2.75 $2.49 |
| Dwarven Beast Hunter Set 1. Foot - RPG HEROES Set #13 PERMES Fantasy Series A total of 45 ready-for-battle brave Dwarven Beast Heroe two-sided figurines, including 9 original full colour minis and bonus 4 sheets of Aspect versions can be printed out from the 5 pages of minis. Various versions available: equipped with axes, swords, battle hammers,... [click here for more] | PERMES | $2.75 $0.76 |