Follow Your Favorites!
Sign in
to get custom notifications of new products!

Featured Product
Planar Compass Issue 1
by Planar Compass
A brand new RPG zine to take you brand new places. Planar Compass is a supplement for Old-School Essentials and other classic RPG systems such as B/X, Swords and Wizardry, Labyrinth Lord, etc.
4 new classes
Rules for psionics
Over 40 psionic powers
3 small adventures and a dungeon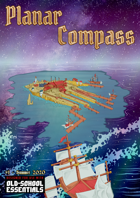 | Products found in this section... | Sort by: |
| --- | --- |
| | | |
| --- | --- | --- |
| Title | Publisher | Price |
| Issue 2 of Carcass Crawler — the official Old-School Essentials zine! Each issue is packed with new material for your games, including new character classes and races, new spells and magic items, new monsters, optional and expanded rules, referee advice, news, previews of in-development products, short adventures, and more! In This Issue New classes and races:... [click here for more] | Necrotic Gnome | $7.50 |
| When Sea Is Calling is a handbook for adventures at sea. It has everything you will need to start your journey as a sailor (generators, maps, tables, monsters and more!). This product contains: an overview of 7 types of boats, with a short description and a rating (one to five) on topics such as attack, defense, maniability, speed and price, a boat generator (general characteristics, hold,... [click here for more] | Atelier Clandestin | $4.99 |
| This City Pointcrawl Generator allows you to create cities of various sizes, with different types of districts and to locate all the points of interest you may find in it! This product is in A5 format, has a printable black & white cover page and can easily be printed as a booklet. It comes with: -3 tables describing the size, characteristics and appearance of the city, -2 pages for the generation... [click here for more] | Atelier Clandestin | $2.50 $2.00 |
| This generator works as a standalone product but it was designed to be used with our Wilderness Pointcrawl Generator. With this pointcrawl generator, explore the sea and head towards the unknown! This supplement contains: 3 pages to generate biomes types (beach, sea, island), adjacent nodes and links between them, 4 pages to populate the nodes with points of interest (landmarks,... [click here for more] | Atelier Clandestin | $2.00 |
| Basics 5e + OSR Layout designed for utility Streamlined gameplay Highly compatible Five Torches Deep (FTD) is a streamlined adventure game combining the best mechanics and principles of 5e, the OSR, and modern game design. The core of the game is familiar to anyone who has played 5e or previous editions of the game, but every mechanic has been pared down, modified, or expanded upon... [click here for more] | Sigil Stone Publishing | $10.00 |
| Remember that time you got cursed and horns started growing on your forehead? With our list of 100 Low Fantasy Curses, prepare for the worst every time you get cursed... This product: - contains 100 curses, each with an original name and the description of its effects, - is in A5 format, has a black and white cover page and can easily be printed into a booklet. ... [click here for more] | Atelier Clandestin | $1.00 $0.80 |
| The essential old-school game of fantastic adventure, monsters, and magic — expanded with advanced character options and spells! Complete Player's Tome This book contains the complete game rules, 13 fantastic classes (acrobat, assassin, barbarian, bard, cleric, druid, fighter, illusionist, knight, magic-user, paladin, ranger, thief), 10 classic races (drow, duergar, dwarf, elf,... [click here for more] | Necrotic Gnome | $15.00 $12.00 |
| There is always something unsuspected going on in a tavern... This product: - contains 60 situations in total, which are split into 6 different locations (cellar, dining hall, kitchen, lobby, outside, rooms), - has 3 black and white vector illustrations, - is in A5 format, has a black and white cover page and can easily be printed into a booklet. ... [click here for more] | Atelier Clandestin | $1.00 |
| Wretched Country does for the western genre what Wretched Bastards did for fantasy: it's an old-school game meant for playing anti-hero characters. The spaghetti western, already referenced as a source of inspiration for the OSR dark-fantasy Wretched Bastards, now takes centre stage. In this book you will find: • Wretched... [click here for more] | The Red Room | $9.50 |
| With this City Name Generator, you can create a large variety of original names. This product: - is in A5 format and can easily be printed as a booklet, - has a printable black & white cover page, - contains 1 table with 30 different name structures (with exemples), - contains 8 tables with names, adjectives, suffixes and prefixes to form the names, - has 1 black & white vector illustration.... [click here for more] | Atelier Clandestin | $1.00 $0.80 |
| The print version of this adventure can be found on the Swordfish Islands webstore (you'll have to Google it as DriveThruRPG does not permit outside hyperlinks). The Waking of Willowby Hall is a dense, highly interactive RPG adventure set in a ruined manor beset by a rampaging giant, roving bands... [click here for more] | Questing Beast Games | $7.50 |
| The first issue of Carcass Crawler — the official Old-School Essentials zine! Each issue is packed with new material for your games, including new character classes and races, new spells and magic items, new monsters, optional and expanded rules, news, previews of in-development products, short adventures, and more! In This Issue New classes: Six new... [click here for more] | Necrotic Gnome | $7.50 $6.00 |
| There's a dragon in the woods. Those friendly dwarves were the first to go, the poor things. And now the beast has been killing and eating the people of Brandonsford. No-one wants to leave the town's walls. With the humans out of the forest, fairies have taken over, and now the goblin king Hogboon seeks to claim the entire forest as his new kingdom. The Black Wyrm of... [click here for more] | Chance Dudinack | $4.00 $3.20 |
| The essential old-school game of fantastic adventure, monsters, and magic — expanded with advanced monsters and treasures! Referee's Tome of Monsters and Treasures This book contains full guidelines for creating and running adventures, over 300 fearsome monsters, and over 300 wondrous magic items. Simple rules let imagination and fast-paced action take the spotlight. Clear, modern... [click here for more] | Necrotic Gnome | $15.00 $12.00 |
| Tired of eating the same thing over and over again at the tavern? Spice up your meals with this full course Tavern Menu Generator! This product contains: a printable black and white cover page, 6 tables of 6 to 20 items, for each part of the meal (drink, snack, appetizer, soup, main dish and dessert), 1 black and white vector illustration. ... [click here for more] | Atelier Clandestin | $0.75 |
| Looking for enemies on your level? We've got you covered with our Dragon Generator. This product contains:  9 tables to generate the description of the dragon (name, alignment, size, age, breath, color, strength, weakness, favorite food, status), 7 tables for the stats (hit points, armor class, saving throws, morale and damage), 3 tables about the dragon's lair and its treasure, 10 dragon-related... [click here for more] | Atelier Clandestin | $1.00 |
| This Tavern Sign Generator contains 8 tables to help you describe an original sign for every tavern your characters may visit. These tables will tell you about the shape, the material, the position, the mounting, the content of your sign, and more! This product also contains 3 black and white vector illustrations. It is in A5 format, has a black and white cover page, and can easily be printed as... [click here for more] | Atelier Clandestin | $1.00 |
| Danger and glory await the bold... In the common rooms of the great city's countless inns, in the bathhouses of the merchant quarter, and before the altars of a thousand gods, brave and desperate adventurers meet and make plans. They leave every day and seek their fortunes in the Sunken Lands. Travel with us through sunken lands... Lots of times, we want... [click here for more] | Flatland Games | $9.99 $7.99 |
| HYPERBOREA 3E Player's Manual ++++ HYPERBOREA is a role-playing game of swords, sorcery, and weird science-fantasy. It is played with paper, pencil, dice, and imagination. Participants include a referee and one or more players. The referee prepares and presents the adventure material (circumstances, challenges, quests, mysteries, etc.), and the players create player characters (PCs),... [click here for more] | North Wind Adventures | $12.00 $9.60 |
| Note: The "color print" format is a black-and-white book, but is printed on thicker, higher-quality paper than the standard black-and-white hardcover. "A seriously f*$d up 65 room dungeon that will present a strange, alien-like slime environment, the likes of which are seldom seen in an rpg adventure. Which is a good thing." - Tenfootpole  This OSRIC/OSR adventure... [click here for more] | G. Hawkins | $7.50 $6.00 |
| Every home needs its heroes… Your small village seems like a haven to you and your friends, but it is not safe. Dangerous faeries lurk in the forest just outside of town, wicked men and ferocious monsters are a constant threat, and sometimes dark forces find their way into your neighbors' hearts. You and your companions are young and untested, but ready to protect what matters.... [click here for more] | Flatland Games | $7.99 $4.79 |
| You are already a great Dungeon Master. You run a game really well. What if monsters were unique and exciting? What if monsters no longer existed in solitary, but part of individual, specialized, ecosystems? What if you had the tools to make these ecosystems quickly and easily, over and over again? What's in it? Thousands of unique monster ideas and origins Tools to integrate these into biomes and... [click here for more] | Hack & Slash Publishing | $24.99 $19.99 |
| A bubbling stream cascades into a hole in the earth, leading to a series of underground watercourses and scintillating grottoes. Adventurers who delve within may discover odd mosses and fungi, a ruined temple complex, and the lair of a crystal-eating dream dragon. A classic expedition into the Mythic Underworld for characters of 1st to 2nd level. 57 keyed areas, rumour table,... [click here for more] | Necrotic Gnome | $7.50 $6.00 |
| With the rising of the Blood Moon, the accursed abode of the Blood King returns to this world. The lord of all vampires comes to claim the blood that is owed to him. His halls contain treasures and secrets that would make any ambitious adventurer abandon reason and caution to seek them out. Will you risk your soul for gold and glory in the Halls of the Blood King? A fantasy horror... [click here for more] | Necrotic Gnome | $7.50 $6.00 |
| HYPERBOREA 3E Referee's Manual ++++ HYPERBOREA is a role-playing game of swords, sorcery, and weird science-fantasy. It is played with paper, pencil, dice, and imagination. Participants include a referee and one or more players. The referee prepares and presents the adventure material (circumstances, challenges, quests, mysteries, etc.), and the players create player characters... [click here for more] | North Wind Adventures | $12.00 $9.60 |
| Build your home away from the dungeon! Ideal for farming, producing helpful goods, recruiting specialized retainers, building a community, and carousing.  FTD: Homesteads has subsystems for: Alternate XP Farming Town life Region and town generators Hooks and tools (including a massive 1d100 Carousing table) Designed for Five Torches Deep but compatible... [click here for more] | Sigil Stone Publishing | $4.00 |
| Highfane Peaks is a setting toolkit designed to help you build evocative adventures in a mythological mountain range. A 70+ page setting guide for Five Torches Deep Detailed mountaineering rules New lineages, classes, spells, monsters, and equipment Guidelines on adventuring in an arcanely-drenched mountain range High concept: what if dungeons were on mountain peaks instead of underground? Five Torches... [click here for more] | Sigil Stone Publishing | $12.00 |
| The essential old-school game of fantastic adventure, monsters, and magic! A Complete Game All in One Book This book contains everything a referee needs: the complete game rules, full guidelines for creating and running adventures, 7 fantastic character classes, full equipment lists, over 100 classic spells, over 200 fearsome monsters, and over 150 wondrous magic items. Simple rules... [click here for more] | Necrotic Gnome | $20.00 $12.00 |
| Into the Wild is written for Old School Essentials but can be easily adapted for use with any OSR-style game. It combines and expands on six books by Third Kingdom Games: Classing up the Joint, Domain Building, Hexcrawl Basics, Random Weather Generation, OSR Expanded Classes, and Wealth by NPC level. Designed to be used alone or as a companion book to Filling in the Blanks and a Guide to Thieves'... [click here for more] | Third Kingdom Games | $12.95 $10.36 |
| Glory? Majesty? You don't know the dark of it! Discover the multiverse! Enter infinite universes of infinite variety, worlds beyond the prime-material settings of the AD&D game. Explore Sigil, the City of Doors, filled with portals to every layer of every plane. All you need is the right key, including. . . A Player's Guide to the Planes: A 32-page primer that introduces DMs... [click here for more] | Wizards of the Coast | $14.99 $8.99 |
| Castle Oldskull Old School Dungeon Design Modules For Advanced / Basic / Expert Fantasy Role-Playing Systems Module CO39: Oldskull Steading Companion (Monsters / Random Tables / Treasure) Fee, fie, foe, fum, I smell the blood of a Grimrookman. Be he alive,... [click here for more] | Kent David Kelly | $4.99 |
| The Tavern from Hell is a Labyrinth Lord adventure for 4 to 6 characters of 1st to 3rd level. A local tavern, known as a hive of scum and villainy, has fallen under the powerful curse of an angry wizard. The locals and the heirs of the taverner are offering an exorbitant sum for adventurers to go in and perform the needful actions to lift the curse.... [click here for more] | James Mishler Games | $3.00 |
| There are plenty of pirates in Antillia, the world of Wretched Bastards, and the sea life is always enticing scoundrels to set sail on adventurous - and profitable - quests. Scurvy presents you with plot hooks, tables of encounters and stats for marine creatures and other foes. Sail into the Laeppero Sea and explore its islands and secrets. Find out what's wrong with Husks Key, meet the Dark Elves... [click here for more] | The Red Room | $1.50 |
| The 1st Edition Player's Handbook is back! No more searching through stacks of books and magazines to find out what you need to know. The Player's Handbook puts it all at your fingertips, including: All recommended character classes: Fighters, Paladins, Rangers, Magic-Users, and more. Character Races: Dwarves, Elves, Gnomes, Half-Orcs, Humans, and more. Character Level Statistics. Equipment... [click here for more] | Wizards of the Coast | $9.99 $5.99 |
| The 1st Edition Dungeon Master's Guide is Back! Dungeon Masters everywhere, rejoice! Too long have you had to suffer along with crucial charts and tables spread through many works. Too long have you had to use makeshift references trying to solve the problem. You now have a complete compilation of the most valuable material for your refereeing, the Dungeon Master's Guide. Herein you will find: Combat... [click here for more] | Wizards of the Coast | $9.99 $5.99 |
| Here is the indispensable encyclopedia of fantasy role-playing. Everything the player needs is here: how to create a mighty hero or crafty wizard; uinque aspects of the elves, dwarves, halflings, and other fantasy races; all the weapons, armor, magical spells, and rules for thrilling battles against supernatural monsters. This fresh, new format for the Player's Handbook is your complete and illustrated... [click here for more] | Wizards of the Coast | $9.99 $5.99 |
| In-depth infiltration rules, stealth spells, and more! Ideal for groups that focus on heists, assassinations, and other stealth missions. Keep up the spirit of old-school adjudication with updated, clear mechanics for subterfuge.  FTD: Stealth has subsystems for: Infiltrations New approaches to "stealth" Poisons, garb, and underhanded sundries The new Infiltrator... [click here for more] | Sigil Stone Publishing | $4.00 |
| A Sorcerer class for Old-School Essentials. No art, printer friendly. Avenir font for easy reading. The class takes up 3 pages. A5 format. Spell casters whose blood runs with the magic of some powerful ancestor are a common archetype in fantasy stories and historic myths. Devils, gods, dragons, serpent kings, fairy lords, and more have meddled with mortals and left their mark on their descendants.... [click here for more] | Wyrd Valley Press | Pay What You Want |
| A Warlock class for Old-School Essentials. No art, printer friendly. Avenir font for easy reading. The class takes up 3 pages, 2 for the traditional OSE-style class spread and 1 for the four patrons to choose from. Warlocks have haunted our stories for centuries and have become a staple of fantasy roleplaying games over the last decade or so. Spellcasters who gain magical power by forging bonds with... [click here for more] | Wyrd Valley Press | Pay What You Want |
| Engage in tactical, nuanced, blow-by-blow duels in a separate melee combat system built for Five Torches Deep This rules supplement is designed for Five Torches Deep but is compatible with any six stat fantasy rpg with swords and armor class. Not meant to replace all forms of combat, FTD: DUELS split out a subsystem for truly meaningful and unique fights. Battle the Evil Emperor... [click here for more] | Sigil Stone Publishing | $4.50 |
| The Throne stands empty. Heaven has fallen, and the Words of Creation thunder from new throats. Undestined, unfettered, unchosen, you are Godbound, and your will is writ with fire. Godbound is a game of divine heroes in a broken world, men and women who have seized the tools that have slipped from an absent God's hands. Bound by seeming chance to the Words of Creation,... [click here for more] | Sine Nomine Publishing | $19.99 $11.99 |
| Blaster Bolts is a new zine that features material for White Star: White Box Science Fiction Roleplaying and short science fiction. This super-sized 12th issue of Blaster Bolts has a new mini-setting for White Star: Reign of Dicordia: War of the Desert World  by RPG designer Darrin Drader. Edge of the Collapse- New short fiction from Darrin Drader... [click here for more] | Fainting Goat Games | $0.99 |
| Castle Oldskull Old School Dungeon Design Modules For Advanced / Basic / Expert Fantasy Role-Playing Systems Module CO1: The Classic Dungeon Design Guide (Dungeons / Lore / Random Tables) Deep dwarven cities of the underworld, Infested by conquering orcs, ... [click here for more] | Kent David Kelly | $4.99 $2.99 |
| All your favorite monsters are back! Now you can download the 1st Edition Advanced Dungeons & Dragons Monster Manual. An encyclopedic collection of information certain to be of invaluable use to players and Dungeon Masters alike, the Monster Manual comes complete with game specifications, background details and, in many cases, an illustration in addition! Note about... [click here for more] | Wizards of the Coast | $9.99 $5.99 |
| Axioms is Autarch's quarterly supplement for the Adventurer Conqueror King System. Each issue of Axioms offers a mix of short content updates for ACKS, such as new classes, new sub-mechanical systems, explorations of specific themes within the game, short adventure scenarios, and more.   In this issue, we prove that burglary, larceny, robbery, embezzlement, keelhauling... [click here for more] | Autarch | $3.99 $3.19 |
| New methods for fleshing out your character's life and lineage before adventure! Five Torches Deep: Origins is the fourth official supplement for the best-selling 5e + OSR game, Five Torches Deep. It includes: A dozen flavorful ancestries  A life path generator 22 lineage traits 8 cultural resources  8 cultural structures  Three... [click here for more] | Sigil Stone Publishing | $4.50 |
| Welcome to the Crystal Frontier, a desolate magic stained wasteland where fabulous crystal spires and fortresses plummet from the skies to tempt the desperate and the bold with magical gems and golden treasures. Find your fortune or find your death as you plunder the fallen sky tomb of an Empyrean despot. SCHEME with the unnatural denizens of the Crystal Tomb! UNRAVEL the... [click here for more] | Ratking Productions | $7.50 |
| The Evils of Illmire is a dark fantasy hexcrawl adventure module for B/X D&D, Old School Essentials, and other OSR systems. This 72-page zine is 8.5x5.5, with color cover and black/white interior. A whole classic campaign in your pocket! The Evils of Illmire is a "mini-mega" hexcrawl adventure module designed to provide dozens of sessions of perilous wilderness... [click here for more] | Spellsword Studios | $4.99 |
| Enter a garden of earthly delights. The sun has stopped setting over the king's favorite garden. It seemed like a harmless curiosity at first but the animals have turned violent and strange alien beings have appeared. The duke has placed a bounty for enterprising sell-swords to end the curse of endless daylight.  Hideous Daylight is an adventure module for Old-School Essentials... [click here for more] | Swordlords Publishing | $5.99 $4.79 |
| Glory & Gold Won by Sorcery & Sword You're no hero. You're an adventurer: a reaver, a cutpurse, a heathen-slayer, a tight-lipped warlock guarding long-dead secrets. You seek gold and glory, winning it with sword and spell, caked in the blood and filth of the weak, the dark, the demons, and the vanquished. There are treasures to be won deep underneath, and... [click here for more] | Goodman Games | $24.99 $14.99 |